Expecting parents can't wait until they can visibly see their new babies.
This usually occurs during ultrasounds.
Pregnant women will have several of these to view the development of their baby as their pregnancy progresses.
But an insurance issue prevented Stephanie George of New Lenox, Illinois from getting any scans between 20 and 30 weeks.
She had to wait 10 nervewracking weeks between her scans.
So naturally, she was nervous. And that nervousness was not unfounded. She found out that her baby had severe defects.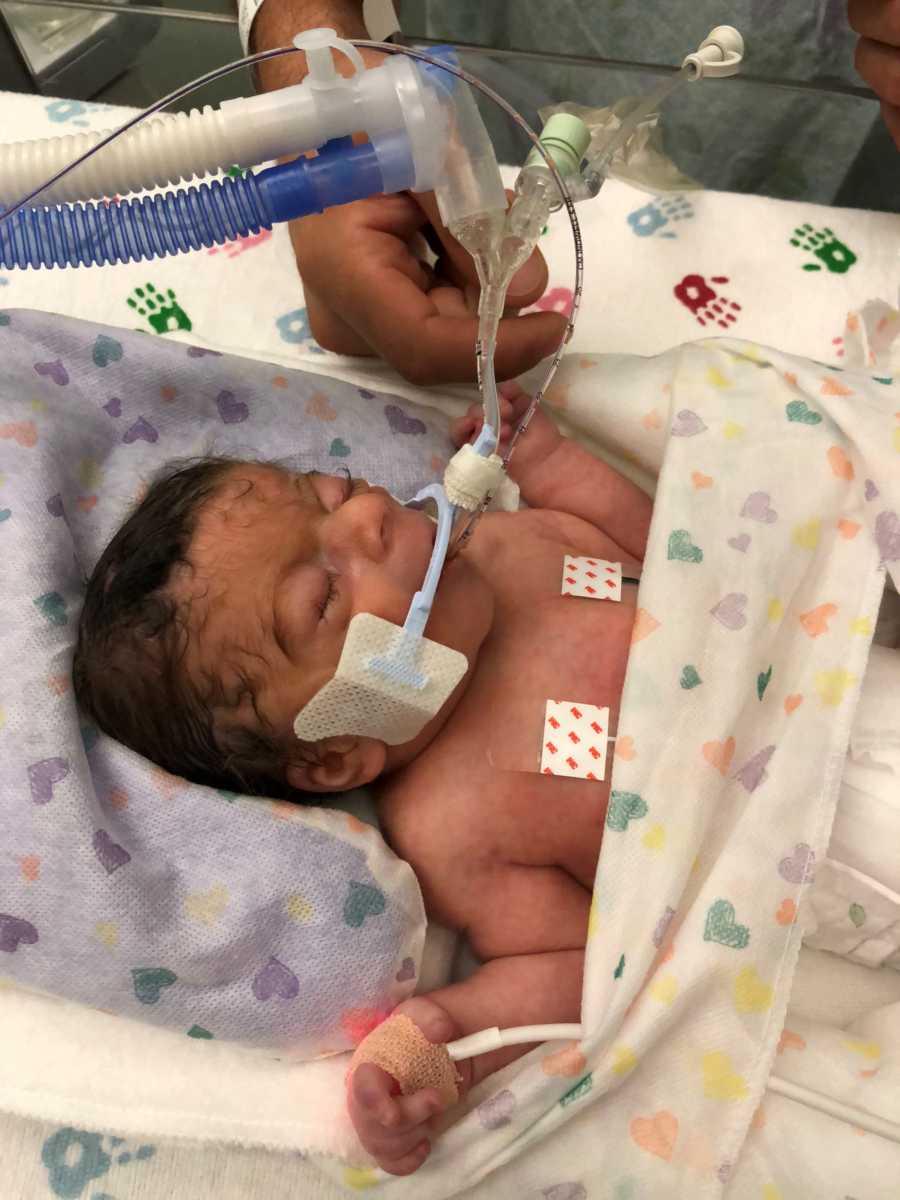 "It was at this appointment when they told us he most likely would have some sort of syndrome, and we had 'no choice' but to continue with the pregnancy. I remember feeling angry at that, 'no choice but to continue.' As if they had already deemed his life to be unfit to continue if we were earlier on," Stephane tells Love What Matters.
Stephanie was eventually told by doctors that her son was probably already suffering from complete heart failure and that she should be prepared for anything.
Eventually, there was a doctor who gave her some hope.
This doctor diagnosed her son with Double Outlet Right Ventricle (DORV), Tetrology of Fallot (TOF), Ventricular Septal Defect (VSD – which means a hole in the heart), and Pulmonary Stenosis.
Her pregnancy continued to have complications and his birth was no different.
She gave birth to Sebastian at 37 weeks when he was just 3 pounds, 14 ounces, and 15 inches long.
"I heard three things when he was finally out: 'He's here!' 'He's breathing,' and, 'He has a TON of hair!' What a joyful moment," Stephanie said.
"And I say moment – because the joy only lasted for that long. Within minutes they were inserting a breathing tube, and then after that, the cardiology team took him away while I recovered. We had no idea what the future looked like, and nothing could have prepared us for the trauma after trauma we lived for the next 100 days."
In those days they received diagnosis after diagnosis that said he would have minimal quality of life and awareness.
He also underwent surgery.
Their baby was eventually diagnosed with Cornelia de Lange syndrome which affects 1 in 30,000 births.
His condition has rendered him deaf, possibly blind, and an inability to ever walk or talk.
But Stephanie believes in her heart that her son will overcome all of this.
While doctors continue to tell her all the things her son wouldn't be able to do, she's focusing on all the things that he can do.
"They didn't tell me his smile would light up any room. And that his personality would be so healing to anyone who gets to meet him, even strangers. He has a way of making people feel at peace. They didn't tell me about all the knowledge I would acquire caring for him. And they definitely didn't tell me that he would teach us everything we never knew we needed to learn; like patience, understanding, gratefulness, humbleness, inclusion, gratitude, selflessness, and to never ever take one single day for granted," Stephanie said.
Follow your friends or be the first to join our group
Their son is now 1-years-old and continues to defy doctor's expectations.
Despite his Congenital Heart Defect, Encephalopathy, and Cornelia de Lange Syndrome, Sebastian is a fighter and so is his family and they will continue to fight while Sebastian continues to be an inspiration to everyone around him.
Please SHARE this with your friends and family.